Hey guys!
Today I enjoyed the delicacy of WAFFLES at the Leavenworth's home…. Yum! Jackie had to leave early to catch a flight to a big real estate convention and Rick drove her to the airport so Dad and I had the place all to ourselves to have paintball wars and water balloon fights (just kidding).
After breakfast I showered, packed up and we left…with the fear of a rainstorm hanging over our heads we rode until about 1 pm.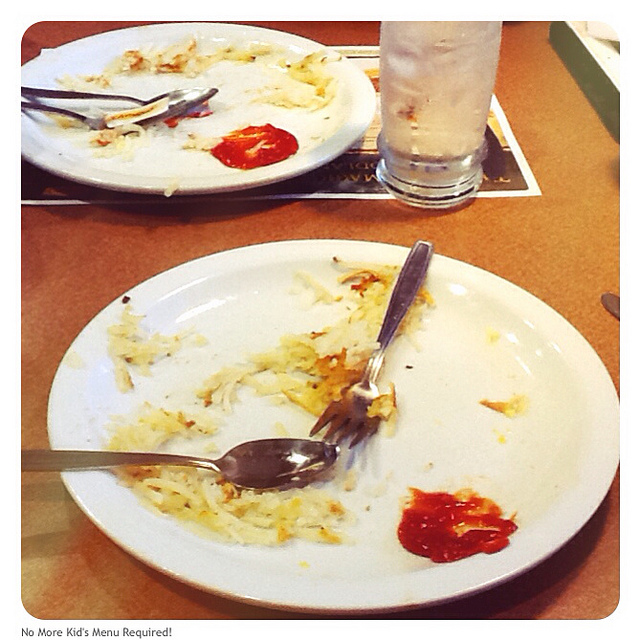 We stopped at Denny's and had hash browns and an "omelette sandwich," and it was reallllllllly good! We both got our own and when we got back on the road we were full and happy…for about an hour and a half.
That's when Dad stopped at a Wal-Mart and I had to wait outside and "guard" the bike for 10 to 15 minutes while he went in search of some suitable chargers for his iPhone/iPad… which he never found. Instead, we left and went to BestBuy to see if they had chargers…and a SIM card for his phone. He said, "I'll be out in a minute; sit tight!" Thus I sat tight… for well over an hour! When he finally came out, he didn't even have the SIM card! The store couldn't convert his Canadian iPhone to a US SIM card. He only had the chargers! Things only went downhill from there.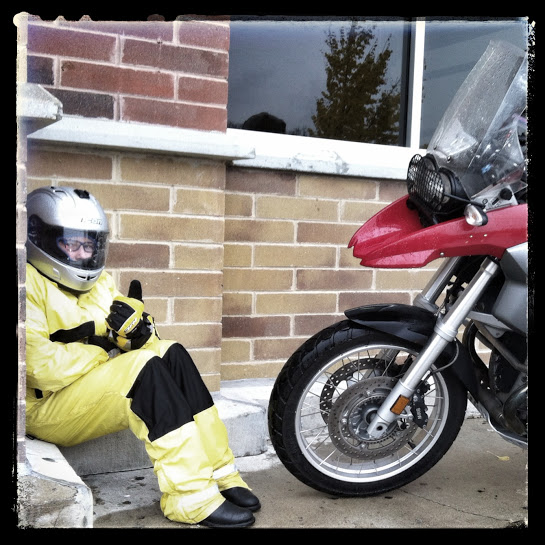 After the SIM card fiasco, we decided to get as far south as we could… but it was hard because we had already wasted almost four hours (on gas, Walmart, Denny's, BestBuy and so on) and the foretold rain had started. It wasn't that cold (thankfully). In fact, I was a bit toasty due to my four layers.
We stopped to put on all of our rain gear (make that five layers) before we headed out again into the day. The quickly disappearing day. By 6:30 pm it was dark, pouring and we were tired and hungry.
We pulled off the highway onto a little exit and we had an amazing buffet at KFC! It had salad, jello, potatoes, corn, cucumbers, carrots, bread, crackers, steamed carrots, chicken and much more! Plus I can now say that I've had Kentucky Fried Chicken in Kentucky!
By now we were rested and full… but the rain was just coming down harder and it was now pitch black and still windy… and since our helmets don't have windshield wipers we had to find a hotel due to all of the campgrounds being closed for the season.
Well, that's what happened today… and how we ended up here at a little Super 8 Motel in Carrollton, Kentucky!